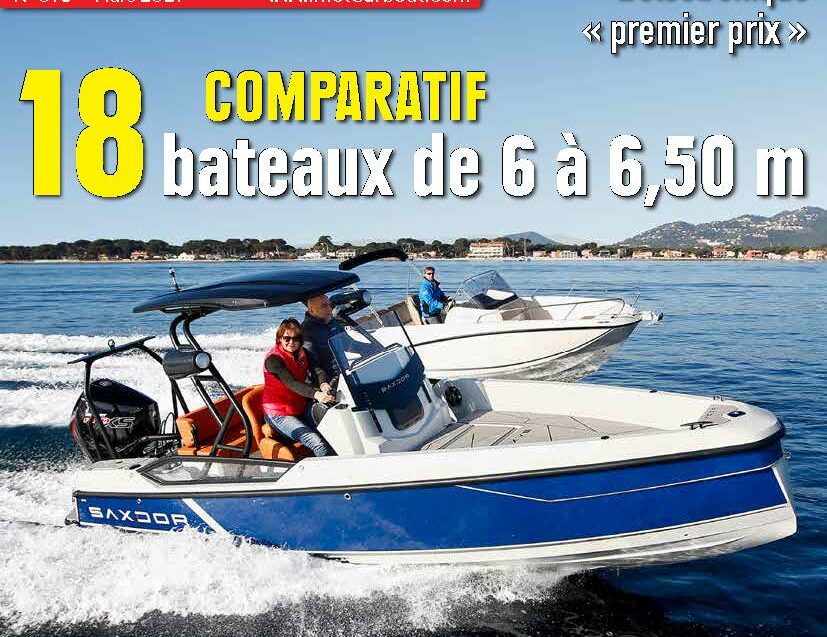 Saxdor 200 Pro Sport : Coup de coeur assuré!
An incredible hull
The Saxdor 200 Sport succeeds indeed to associate an attractive price with a beautiful incredible high boat manufacturing quality, a playful and a special design. With its vertical bow and its pointed front. The twin-stepped hull literally amazed the boat testers.
Its performance at the sea is particularly effective, its repercussions are very soft and without any resonance unpleasant and hooks it, in turn, is breathtaking. The hull deflects perfectly and the angle of lodging, although marked, is not dangerous. In short, pilot this little toy is a treat!
Deck layout
it is possible to choose between a jockey seat for three people and a back seat for four seats installed behind the steering console.
The latter, placed in the center,receives a very modern dashboard with its Simrad screen fully integrated. It has in more than a windshield that mounts or down from around thirty centimeters depending on the size of the pilot. If the latter is r taller, the boat will not be able to pilot standing due to the height under the T-top (an option that fitted our boat), limited to 1.65 meters. The two helm station seats are fixed, but the end of their seat can be lifted for piloting in the middle position.
A good cockpit designed for skiing .On either side of the console, a walkway of about thirty centimeters leads to the front occupied by a huge hold in which put away the bath cushions of sun (optional). The cockpit is entirely open at the back, storages are hidden under the four seats, and the backrest of the seat tilts forward, creating a comfortable seat facing towards the engine, a convenient feature for monitor skiers or wakeboarders.
The 200 Pro Sport is the smallest model of the Saxdor Yachts brand, imported for the Paca region and Corsica by the company Med Yacht – based in the Saint-Tropez, France , and created in 2019 by Sakari Mattila.
Read full article in French: Moteur Boat/3.2021