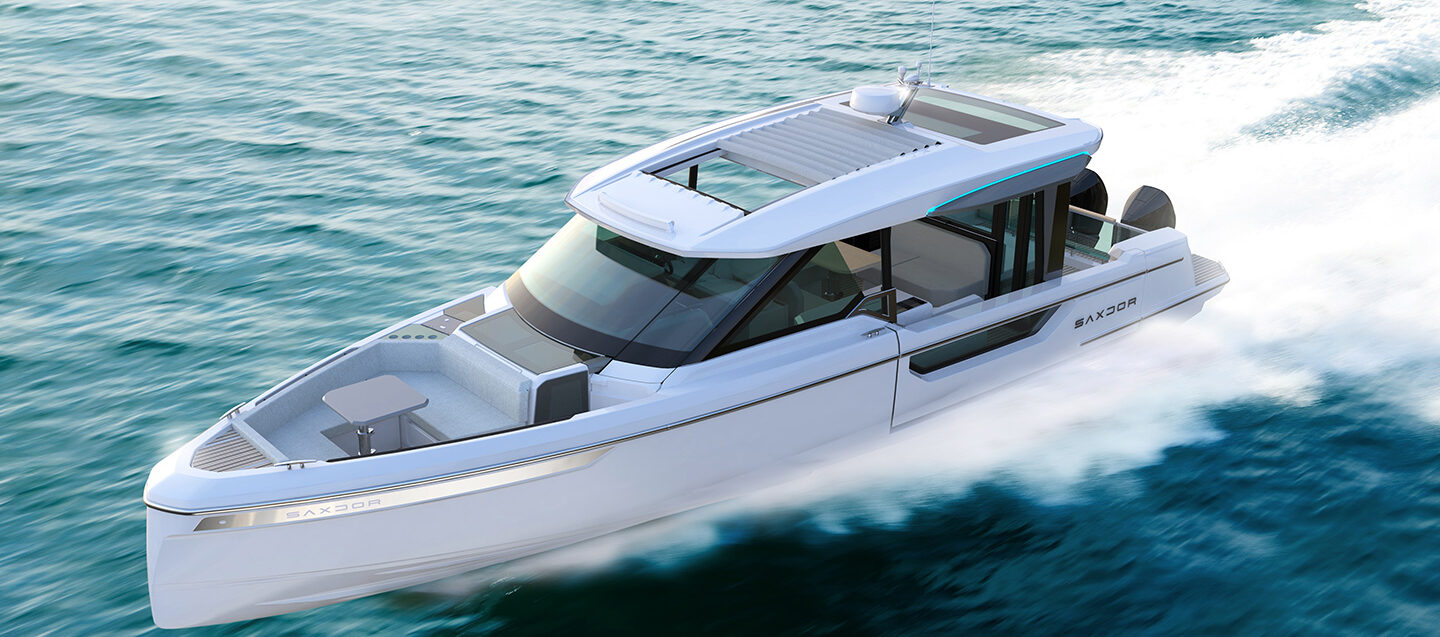 Saxdor Yachts to showcase new flagship Saxdor 400 GTO at Cannes Yachting Festival 2023
Saxdor Yachts, the rapidly growing Finnish premium powerboat producer, is thrilled to announce their participation in the Cannes Yachting Festival, held from the 12th to the 17th of September, 2023. Saxdor is preparing to unveil their newest model, the Flagship Saxdor 400 GTO, which confirms and builds on the brand's unwavering commitment to performance, design, and exceptional value.
Since its inception in 2019, Saxdor Yachts has experienced exponential growth, producing over 1000 boats and capturing the industry's attention with their innovative approach. Now, with the introduction of the Saxdor 400 GTO, Saxdor Yachts aims to make waves in the 40-45ft sport boat market, leveling up from the game-changing entry-level 200 and mid-range 320 models.
The Saxdor 400 GTO is a highly anticipated flagship model that embodies exceptional performance, seakeeping abilities, and cruising efficiency. Built on an elongated twin-stepped 320 hull and designed for a twin outboard rig, the Saxdor 400 GTO promises outstanding on-water performance. Saxdor has reduced the boat's weight with vacuum infusion techniques, enhancing fuel efficiency. Standard balconies in the cockpit significantly increase usable deck space, creating a private island experience while at rest.
The connection to the water is further enhanced by a new glass transom, providing scenic views from the cockpit seating. The lower deck accommodates a spacious forward double cabin, separate bathroom, and the option for a kids' cabin and amidships double cabin. The wheelhouse extends to the full beam of the boat, maximizing internal living space and offering direct access to side terraces, a unique design feature that enhances the functionality of the balconies.
Sakari Mattila, Founder and Chief Designer of Saxdor Yachts, expressed his excitement about the upcoming event, stating, "The Cannes Yachting Festival represents a significant milestone for Saxdor Yachts as we unveil our new flagship, the Saxdor 400 GTO. We are proud to showcase our brand's evolution and look forward to sharing the Saxdor experience with the global boating community."
Saxdor Yachts will be at the Cannes Yachting Festival from September 12 to 17 with Saxdor 400 GTO – stand QML005
Saxdor Yachts will also be exhibiting Saxdor 320 GTO (stand QML005), 270 GTO (stand QML305) and 205 (Palais 107). Stand numbers are yet to be confirmed.